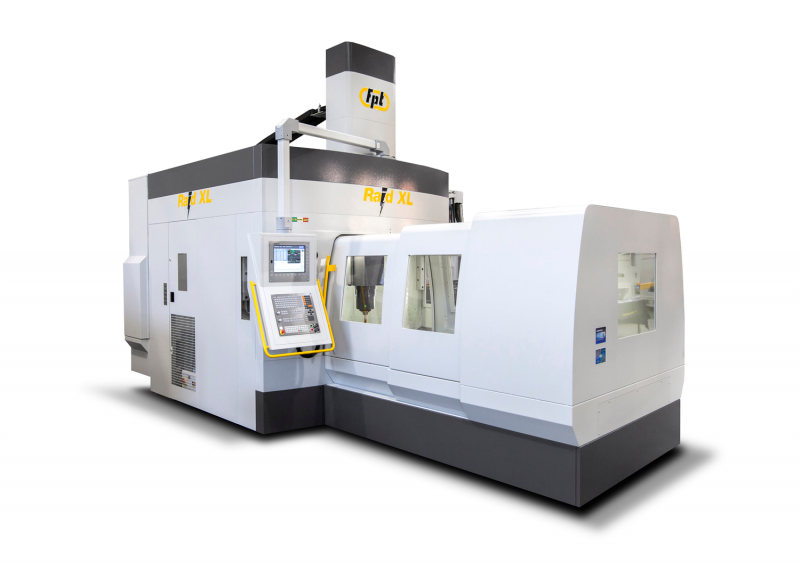 Raid XL
FPT
DYNAMIC PROFITABILITY
FPT Industrie presents its vertical spindle milling machine, Raid XL.
Raid XL sets among the medium/small size milling machines but its technical specifications are those of a great size machine. Raid XL expresses compactness, speed, accuracy, ergonomics. These are the key words that characterize this product. An incredible quality-price ratio makes it attractive to all companies: from the large ones who require high performance, to the small ones because it is an affordable investment. Raid XL is a milling machine / machining centre for three-dimensional surface machining and/or generally for 3-axis high dynamic mechanical machining. The structure of Raid XL is based on previously experimented solutions tested by FEM: portal with moving table, fixed crossbeam and saddle in the upper part of the crossbeam to assure compactness, low tilting torque and moderate height. An high-frequency electrospindle with vector control is placed in the ram. The chain type tool changer with 30 or 54 pockets is placed in the left shoulder, its position allows an easy accessibility and a quick tool replacement without interfering with the work range. Particular solutions for better working conditions: the table positioned at only 650mm from the floor completely goes out from the overall ram dimensions assuring easy loading and unloading; the control panel can be positioned either on the right or the left side and allows always an excellent visibility of the workpiece without moving away from the control station.
Teknisk data
Travels

Longitudinal mm.

2.000

Cross travel mm.

1.400

Vertical travel mm.

800

Feed rate mm/min.

up to 35.000

Table

Table dimensions mm.

2.000 x 1.100

Table payload kg.

3.500

High Frequency Spindle

Power kW.

18-33

Torque Max. Nm.

80-120

Max. Spindle Speed r.p.m.

18.000-12.000

Spindle taper

HSK A63 - HSK A100

Automatic Tool Changer

Tools no.

30 - 54 → ...