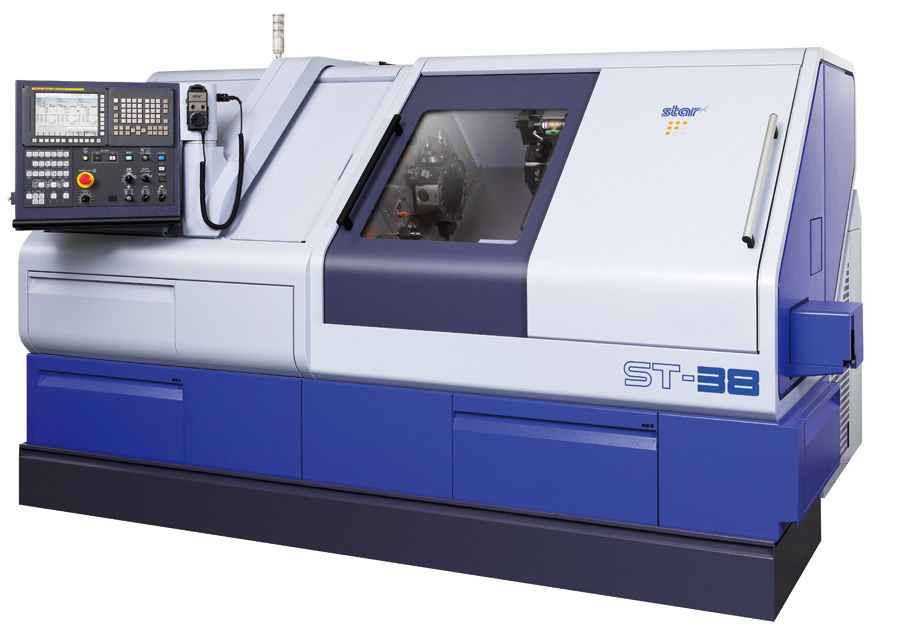 STAR ST-38
Star
THE ADVANTAGES
The ST-38 from STAR Micronics further develops the series of the complex KNC-32 and SV-32 machines.
A machine for highly complex parts, yet easy to program in the usual way with the FANUC control system with machining possibilities for parts up to a workpiece diameter of 38 mm.
The 3 turrets allow for almost limitless machining flexibility. The ST-38 therefore enables the machining of turned parts which require up to 60 tools.
• FANUC 31i-B5 control system
• C-axis control as standard on main and sub spindle
• completely independent backworking
• movable control panel
• two tool carriers for simultaneous machining on the front side
• additional longitudinal axis on the tool carrier
• drive power turret 4.0 kW
• three independent tool systems
KINEMATICS & TOOLS
• 3 turrets each with 10 tools for excellent power-driven machining flexibility
• 30 + α power-driven tools for turning, drilling, cross drilling and backworking
• 12 axes
Teknisk data
SPECIFICATIONS

Diameter

38 mm / 40 mm (option)

Length

350 mm

C axis

Main spindle

C axis

Sub spindle

KINEMATIS OF THE ST-38
FRONT SIDE

Main spindle (headstock)

Z1 / C1 axis

Turret 1

X1 / Y1 axis

Turret 3

X3 / Y3 / Z3 axis

Max. machining diameter

38 mm / 40 mm (option)

Max. headstock stroke (standard)

350 mm

With magic guide bush

320 mm

Drive power main spindle

max. 11.0 kW

Max. main spindle speed

7,000 rpm

Drive power turrets 1 and 3

max. 4.0 kW

Speed turrets 1 and 3

max. 5,700 rpm

SUB SPINDLE

Sub spindle

Z2 / C2 / YA2 axis

Turret 2

X2 / Y2 axis

Max. chucking diameter

38 mm

Max. drive power sub spindle

max. 7.5 kW

Max. sub spindle speed

7,000 rpm

Drive power turret 2

max. 4.0 kW

Speed turret 2

max. 5,700 rpm