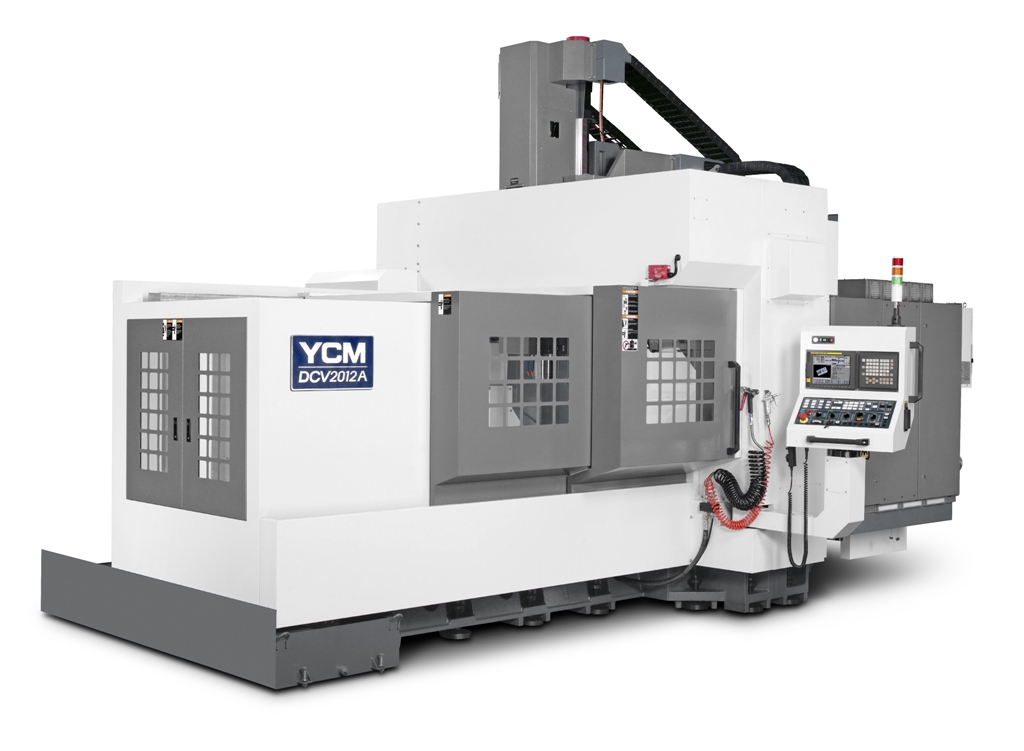 YCM DCV2012A
YCM
YCM Made Integral Spindle
• YCM made integral spindle can reach the high speed of 20000rpm. Integral design successfully reduces noise and vibration.
• Air-cooling system removes heat generated from the running spindle and motor.
Superb Body Structure
• Reinforced body structure through FEM analysis offers superb cutting rigidity and extends tool life.
• Large span of Y-axis is designed to enhance the rigidity. The horizontal and vertical direction design of guideway supports weight of saddle and the cornering force at the same time.
• X-axis is designed with over-sized roller type guideway and 6 sliders to support heavy workpiece.
• The whole work table is assembled on the base so there is no hanging problem.
Roller Bearings Linear Motion Guides
• Low friction for motion smoothness.
• Dynamic and stable load-bearing capacity.
• Superior geometric accuracy and surface quality.
• Better anti-vibration behavior to extend tool life.
High Rigidity of Z-axis
The roller type guideway and 6 sliders strengthen the cutting ability and efficiently solve the problem of vibration. The brake device makes Z-axis more controllable and offers the best dynamic accuracy for 3D fine feed
Teknisk data
Spindle Speed (opt.) rpm

20,000

Max. Spindle Motor Power kW

22

Spindle Taper

BBT40

X-axis Travel mm

2,000

Y-axis Travel mm

1,200

Z-axis Travel (opt.) mm

600

Distance Between Spindle Nose & Table Top mm

100~700

Distance Between Spindle Center & Table Top mm

-

Distance Between Columns mm

1,340

Table Size mm

2,000 x 1,100

No. T-Slots x Size x Pitch mm

7 x 22 x 150

Max. Load on Table kg

4,000

Rapid Feedrate (X/Y/Z) m/min

24/24/15

Cutting Feedrate mm/min

1~10,000

Tool Magazine Capacity (opt.) T

24 (30)

Max. Tool Weight kg

6

Max. Tool Dimensions mm

ø76 x 250

Pneumatic Supplier kg/c㎡

5.5

Power Consumption (Transformer) kVA

46 (45)

Machine Weight kg

16,000