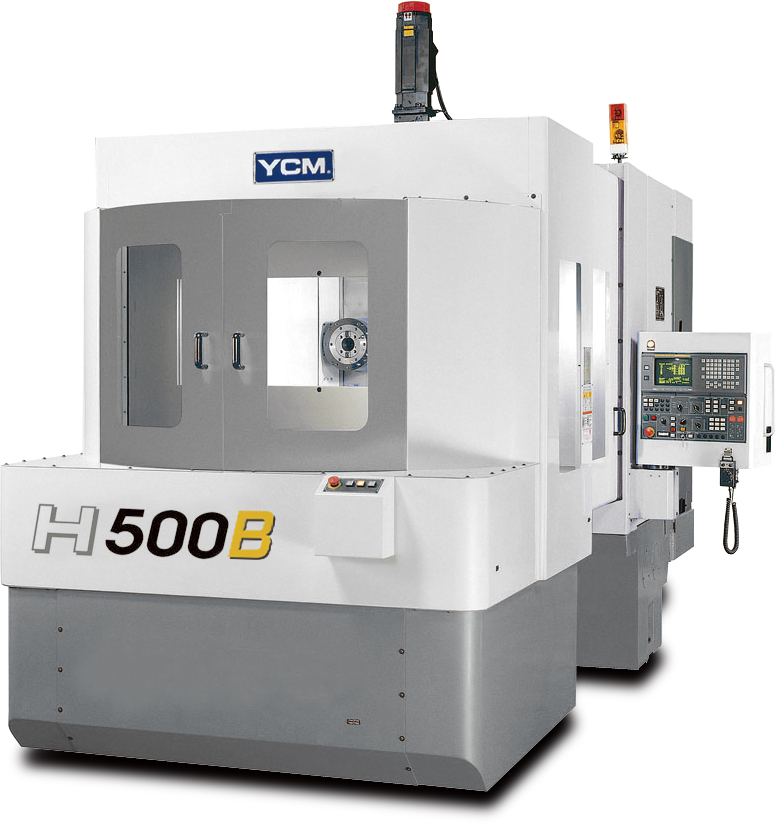 YCM H500B
YCM
High-Speed and High-Precision Spindle Design
• Ceramic ball bearings for high speed machining feature low thermal expansion coefficient and excellent rigidity perofrmance.
• The internal diameter of spindle bearings is ø100mm satisfying heavy cutting requirements.
• Standard IDD spindle offers excellent power output.
• Maximum torque is 36kg-m and is excellent cutting capability.
High Rigidity Construction and High Speed Machining Ability - Up to 30m/min Rapid Feed Speed
• The moving column design, the strengthened 3-point support base, and dual wall rib-structure column sustain the utmost rigidity, accuracy level, and machine durability.
• Direct transmission design on all 3 axes and pre-tensioned ballscrews ensure motion rigidity, and machining accuracy.
• Deployed with high precision linear motion guideways, NSK LA type on the H500B, all ensure excellent machining performance and service life with low friction, high rigidity, high speed, and optimal damping force. The rapid feed speed is up to 30m/min. (X/Y/Z), and the maximum cutting feed speed is at 10m/min.
Fast and Reliable ATC Mechanism Proved by a-million-time Running Test
• The roller-gear-cam ATC arm, parallel to the spindle of the short-pitch design, makes the ATC prompt and reliable; it takes only 3.5 seconds.
• The magazine is precisely indexed and driven by servo motor for efficient operations.
High Precision, Powerful Clamp APC Enhances Flexibility and Efficiency
• Compact and smart rotary pallet change design with unique and strengthen rail way support ensures the accurate, fast, and reliable APC.
• Pallet change only takes 8 sec.
• Large size φ450mm position clutch is deployed with taper pin in precise positioning and strongly supports the table and meets the rigid machining needs.
• Optional 0.001° continuous feed 4th axis pallet of dual warm gear design is backlash-free and easily maintained.
Teknisk data
Spindle Speed (opt.) rpm

6,000 (10,000)

Max. Spindle Motor Power kW

22 (22)

Spindle Taper

BBT50

X-axis Travel mm

700

Y-axis Travel mm

650

Z-axis Travel mm

650

Distance Between Spindle Center & Table Top mm

50~700

Distance Between Spindle Nose & Table Center mm

150~800

Table Size mm

500 x 500

Max. Load on Table kg

600

Max. Work Dimensions mm

ø800 x 760 H

The Height From Table Top to Floor mm

1,250

Table Indexing Angle

1° (0.001°, 0.001°+Encoder)

APC Time sec.

10

Rapid Feedrate (X/Y/Z) m/min.

40/40/40

Cutting Feedrate mm/min.

1~20,000

Tool Magazine Capacity T

40 (60/80)

Max. Tool Weight kg/pc

20

Max. Tool Dimensions mm

ø125 x 400 (ø240 x 400)

Pneumatic Supplier kg/c㎡

5.5

Power Consumption (Transformer) kVA

58(65)

Machine Weight kg

17,650