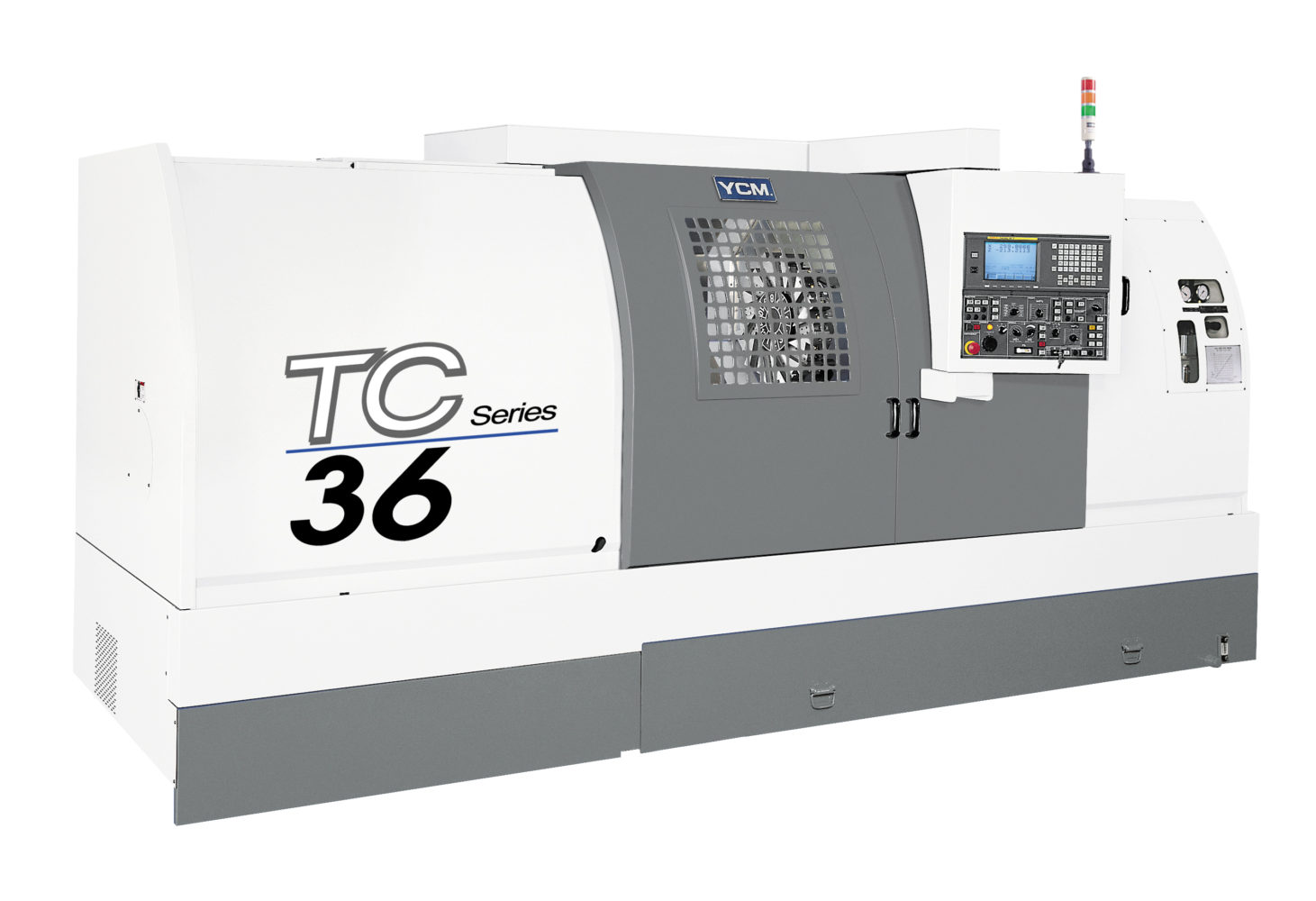 YCM TC36
YCM
High Precision and High Rigidity Structure Design
• The rigid one-piece MEEHANITE® casting iron absorbs the turning vibration and ensures job accuracy.
• X, Z axes guideways are well hardened and ground with Turcite-B to reduce the friction and offer utmost rigidity in cutting. The rapid feeds is 15m/min. of the X-axis and 20m/min. on the Z-axis.
• This machine is equipped with high precision ball screws and connected with the motor directly. The fixing design supports both ends; the design of pre-loaded ball screws provides high rigidity, high precision, and low heat effect.
High-Speed and High-Rigidity Turret
• The 12-station turret index is done by absolute detection to reduce tool selection mistake.
• The powerful turret with large diameter curvic coupling offers high precision and high rigidity in cutting performance.
Powerful Head Stock with Built-in Gears
• The spindle is equipped with high precision angular ball bearing and NN series bearing that provides high precision and rigidity working condition. The inner diameter of the bearing is ø150mm, and ø105mm of the spindle through hole. ø93mm of the drawbar through hole adapts large diameter bar stock jobs.
• The powerful spindle with built-in gears provides various speed transmissions. The maximum torque reaches 140kg-m, with 2,500rpm maximum spindle speed.
User Friendly Interface
• Using "M" code commands the quill stroke of the programmable tail stock, can be hooked with a hydraulic hook to the saddle carriage and slide along the Z-axis stroke. Tail stock revolving quill is standard.
• From the window of the safety guard, operator can see through the engaged job, and shield from the cutting chips and coolant mist.
• Hydraulic gauges, control values of chuck and tail stock, and the central lubrication system are installed at the front side; for easy use and maintenance.
• The stand alone oil tank ensures the machining precision will not be affected by heat. It is also convenient and efficient for cleaning and maintaining the oil tank.
Teknisk data
Swing Over Bed mm

ø690

Swing Over Carriage mm

ø510

Max. Turning Diameter mm

ø590

Max. Turning Length mm

1,189

Distance Between Center mm

1,492

Height Between Spindle Center and Ground mm

960

Chuck Size (opt.)

12''

Spindle Nose

A2-8

Front Bearing Diameter mm

ø150

Hole Through Spindle mm

ø105

Hole Through Draw Tube (opt.) mm

ø93

Spindle Speed (opt.) rpm

2500 (2 Speed Gearhead Spindle)

Max. Spindle Torque kgf-m

140

C-axis Index Accuracy

–

Spindle Motor Power kW

22 / 26

Axis Motor (X/Z) kW

2.5 / 2.5

Turret Motor kW

–

VDI Live Tool Motor kW

–

X-axis Travel mm

310

Z-axis Travel mm

1,250

Rapid Feedrate(X/Z) m/min.

15 / 20

Cutting Feedrate mm/min.

1~5,000

Type of Index

Servo Motor Drive (Hydraulic Clamp)

Turret Tool Magazine Capacity (opt.)

12T (8T)

Shank Height for Square Tool mm

□25

Shank Diameter for Boring Bar mm

ø40 / ø50

Swing Over Turret mm

ø640

Tail Stock Quill Taper-Dead Center(std.)

MT-4 (Rotary Type)

Tail Stock Quill Taper-Live Center(opt.)

—

Tail Stock Quill Diameter mm

ø100

Tail Stock Quill Stroke mm

120

Tail Stock Stroke mm

1,080

Power Consumption(Transformer) kVA

51 (65)

Machine Weight kg

7,000