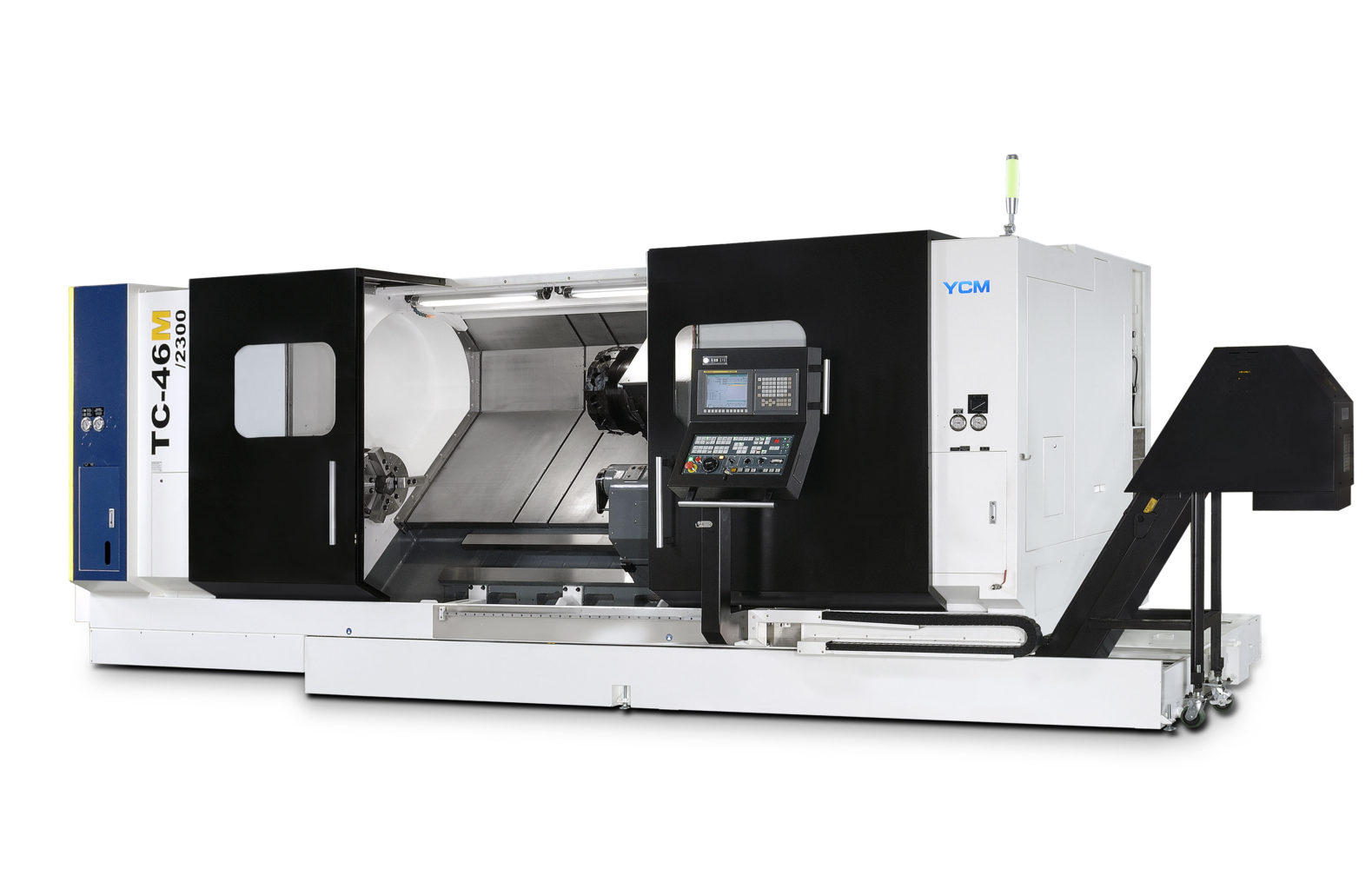 YCM TC46M/2300
YCM
Wide range of max. turning lengths
• Four ranges of Max. Turning Length: 911/1,561/2,211/3,111 mm 35.9"/65"/87"/126", Max. turning diameter ø730 mm ø28.7".
Rigid Structure Design
• MEEHANITE® casting frame through FEM analysis and 45 degree slant bed ensure the best rigidity and eliminates casting distortion.
• Z-axis designed with extra wide distance of 620 mm 24.4" between guideways, and 950 mm 37.4" for full bed width offer the highest rigidity.
Fast & Reliable Motorized Turret
• 12 tools capacity with BMT 85 tooling system.
• Max. live tool power 15/18.5/22 kW 20/25/30 HP with Max. speed 3,000 rpm.
• Servo drive turret for high speed index.
• Hydraulic clamping turret with 3-piece large clutch for heavy duty cutting.
• 70 bar 1,015 psi coolant pump (opt.)
Perfect Spindle Design
• A2-11 spindle noise for flexible chuck 15"/18"/21"/24" with hole through Spindle ø130 mm ø5.12".
• Extra large bearing with excellent rigidity for heavy duty cutting capability.
• C axis with Rotary Encoder for high positioning 0.001 degree to provide excellent milling accuracy.
Big Bore Hole Through Design (opt.)
• A2-15 spindle of Big bore hole for flexible chuck 18"/21"/24", hole through Spindle ø182 mm ø7.17".
• Suitable for the long workpiece (by boring and drilling), oil pipe (with optional dual chucks).
Powerful 2 speed Gearhead Spindle and Head cooling
• Spindle motor power 30/37 kW 40/50 HP with 2 speed gear box.
• Max. torque 3,800 Nm 2748 lb.-ft. [S3 25%].
• Spindle quill /Gear Box with oil-cooling system for excellent thermal stability.
Teknisk data
Swing Over Bed mm

ø850

Swing Over Carriage mm

ø720

Max. Turning Diameter mm

ø730

Max. Turning Length mm

2,211

Distance Between Center mm

2,505

Height Between Spindle Center and Ground mm

1,210

Chuck Size (opt.)

15" (18", 21", 24")

Spindle Nose

A2-11

Front Bearing Diameter mm

ø180

Hole Through Spindle mm

ø130

Hole Through Draw Tube (opt.) mm

ø117

Spindle Speed (opt.) rpm

2,000 rpm (15"/18") / 1,700 rpm (21") / 1,400 rpm (24")

Max. Spindle Torque kgf-m

380

C-axis Index Accuracy

0.001°

Spindle Motor Power kW

30 / 37

Axis Motor (X/Z) kW

4 / 7

Turret Motor kW

4.8

VDI Live Tool Motor kW

15 / 18.5 / 22

X-axis Travel mm

415

Z-axis Travel mm

2,300

Rapid Feedrate(X/Z) m/min.

16 / 15

Cutting Feedrate mm/min.

1~10,000

Type of Index

Servo Motor Drive (Hydraulic Clamp)

Turret Tool Magazine Capacity (opt.)

12T

Shank Height for Square Tool mm

□32

Shank Diameter for Boring Bar mm

ø60

Swing Over Turret mm

ø890

Tail Stock Quill Taper-Dead Center(std.)

MT-5 (Fixed Type)

Tail Stock Quill Taper-Live Center(opt.)

MT-5 (Rotary Type)

Tail Stock Quill Diameter mm

ø150

Tail Stock Quill Stroke mm

150

Tail Stock Stroke mm

2,115

Power Consumption(Transformer) kVA

76.38 (100)

Machine Weight kg

14,300