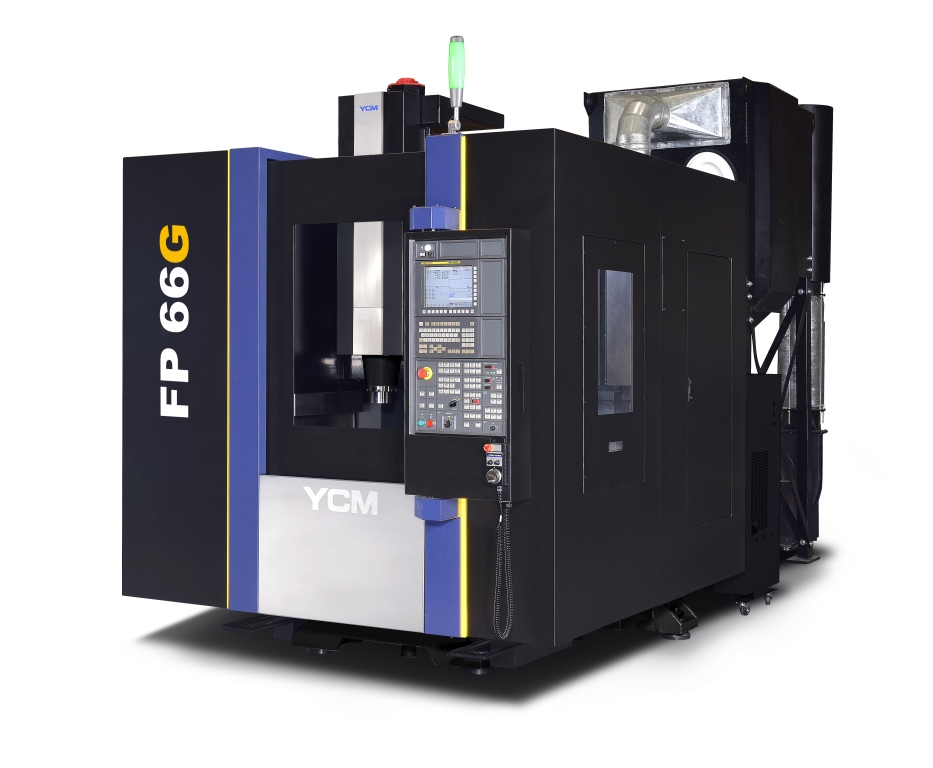 YCM FP66G
YCM
YCM double column design on the FP66G features high rigidity and high accuracy. Equipped with Dust Collector Equipment, FP66G is suitable for industries with the need of graphite electrodes such as automobile industry.
High Accuracy Structure Design
- Head Light weight design increases dynamic response of Z-axis.
- Optical Scales on 3 axes are standard.
- Symmetrical Double Column Design reduces thermal deformation and increases machining accuracy.
- Roller type guideway design on 3 axes offers high rigidity.
Convenience for operation and maintenance
- Pneumatic unit, lubrication unit and oil mist cutting pump can be monitored and maintained collectively to reduce maintenance time.
- Tool magazine can be allocated at either right side or left side for automatic allocation.
- Two sets of compressed air filter system prevent leaking oil by being allocated separately in machining area and non-machining area.
High Efficiency Dust Collector Equipment(opt.)
- Cartridge Dust Collector applied and filter choke is detected and cleaned automatically by differential pressure detection.
- The filter bag used to can prevent the environmental pollution.
- Replacement Filter Bag and dust bags are optional to prevent dust from falling.
Eco-friendly Design
- The 30,000rpm spindle is lubricated by grease to reduce oil waste.
- 3 axes are lubricated by grease to reduce oil usage.
Dust prevention on linear guideways
- 5-step dust prevention is applied on the linear guideways.
- Ballscrews are double protected by the oil rubber+Teflon for Dust prevention.
Teknisk data
Spindle Speed (opt.) rpm

30,000

Max. Spindle Motor Power kW

9.4

Spindle Taper

HSK-E40 (BBT30)

X-axis Travel mm

660

Y-axis Travel mm

510

Z-axis Travel mm

400

Distance Between Spindle Nose & Table Top mm

120-520

Table Size mm

800 x 510

No. T-slots x Size x Pitch mm

5 x 14 x 100

Max. Load on Table kg

500

Rapid Feedrate (X/Y/Z) m/min.

24/24/24

Cutting Feedrate mm/min.

1~20,000

Tool Magazine Capacity (opt.) T

20

Max. Tool Weight kg

3

Max. Tool Dimensions mm

ø40 x 150

Pneumatic Supplier kg/c㎡

5.5

Power Consumption (Transformer Consumption) kVA

51 (65)

Machine Weight kg

6,900